2 EVENING SESSIONS: SEPTEMBER 5 & 6, 2012; 6—7PM & 7:30—8:30PM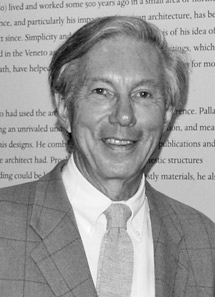 This course is designed to help people discover the visual fascination of architecture, the most accessible of the arts. Although architecture is all around us, most people miss enjoying one of life's pleasures because they do not know how to "read" buildings. Using many examples of traditional architecture, famous as well as ordinary, the course explores why buildings look the way they do. The course covers the classical language of architecture, construction and design details of traditional American buildings, and the origins of various architectural motifs. Aesthetic principles of traditional architecture are explained by contrasting 'literate' with 'illiterate' buildings.
The course provides an in-depth but digestible understanding of architectural works both great and small, and will appeal to architects, interior designers, contractors, old-house buffs, remodelers, realtors, and just about anybody who likes to look at buildings.
Prior to the course, please be sure to follow noted historian Calder Loth's Classical Comments on our
blog
.
Instructor: Calder Loth, Historian, ICAA Instructor
Location: ICAA, 20 West 44th Street, Room 404, New York, NY
Cost/Continuing Education Hours: $160 ($110 Members); 4 AIA/CES CEHs
Student discounts and tuition assistance is available for qualified registrants. Please call
(212) 730-9646 x116
to inquire.